Why A Smile is Not His Style*(BOP)*

You're not going to believe why (because we sure didn't) blue-eyed*(CORRECTION! GREEN EYES! LOL) babe Erik Von Detten always sports such seriously stern stares in his pictures! When the co-star of 1997's Leave It to Beaver stopped by BOP HQ to chat and sit for a photo shoot, we had to find out just what is behind this boyish brooding. "To Tell you the truth," the moddest 15-year-old proclaims, "I'm not that photogenic."

What?! We find that very hard to believe, especially with all of the precious pics he's pulled off for BOP, with his sparkling eyes, luscious lips and dusty-blond hair! But Erik assures us that he isn't being a grumpster when he doesn't smile. There are just things that make him modest about mugging for the camera-and presenting his pearly white tops the list."I like getting my picture taken," Erik concedes, "but I hate it when they ask me to smile."

Turns out, this terrifically talented actor narrowed down the look he likes, and he's totally serious about sticking with it. Th eonly time I considers photos of himself, like the ones that become drool-worthy posters is "when they're serious and stuff," Erik says.

So does this megababe think the serious shots that he's singled out make him look better than he does in real life?> "I don't know," Erik humbly grins. "I've never seen myself in person." Well, we have, and let's just say that what you see-a good-natured, gorgeous guy with a serious stare that can make your heart melt-is reall what you get!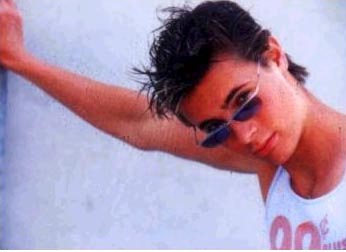 A Day in the Life of...ERIK VON DETTEN

I was shooting over in Bubank and I live at the beach. It's like an hour away. So you actually have this apartment at the studios and we stay there during filming. When we were [shooting] at the studios, we got up around 6:30 a.m or 7 a.m, and it wasn't a long drive-two minutes. My mom [Susan] took me.

I don't take a shower in the morning; I work better when I'm sleepy. For breakfast, we;d swing by McDonald's and get breakfast there. But then when I was shooting my movie, I was willing to make breakfast. I'd make scrambled eggs. Instead we put Parmesan cheese in there with some pepper and salt. It makes it enjoyable. I ate a lot of that.

Once I got to the studios, I'd go on in ]my trailor]-I got a star already! I'd relax, no, I'd get dressed. Get dressed, you go into hair and mnake-up, and usually while I'm in make-up I'd go over my lines. The whole entire process takes about half an hour-not that I'm really ugly and need a lot of make-up.

And then after that, they rush you over to the school trailer. Normally you go to school. And then when you were done, you'd wait 'til your scene came up and then when it did, you just, you know, shoot the scene. It's such a long process, so it take a while.

During my down time, sometimesI would just hang out with [co-star] Adam Zolotin or I'd just do whatever he wants to do. Go over my lines.

For Lunch, they cater that, catering trucks and stuff. They made all sorts of stuff. My personal opinion is the catering is poor. The only good thing, I think, is they made pasta really good.

If my call time was 8 a.m, I'm usually out of there around 5 p.m. or 6 p.m. Sometimes they'd do night shoots, though, where your call's going to be around 4 p.m. and you'd work 'til about 1 in the morning.

It was really nice place we were staying at. It's got a swimming pool and a place where you could go hear records and work out. It was really quiet. I'd go to sleep there after work because there's so many kids in that apartment [complex]. So I slept from [sometimes] 12 p.m. to 7 p.m. every single day. [For Dinner], my mo used to cook, but she never cooks anymore-you know, she's got enough stuff under her belt! But I usually just pop in a microwave dinner. I've been eatin gpastas and stuff and tuna sandwiches.

I got to bed around 12 a.m. because I'd go out. Usually dinner was just like I'dwait until the last, "My God, guys, I'm so hungry. I'll be be back, I gotta get something." I'd run in the house, take out some bread or whatever, run out, "Erik eat that slow!" "Okay, Mom." It's so funny.